EASR Conference 2022 in Cork: Religions and States of Freedom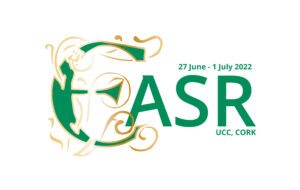 Date: 27 June – 1 July 2022
Venue: University College Cork
Conference website: https://www.easr2022.org/
In 2022, Ireland will commemorate the centenary of the founding of the Irish Free State, Saorstát Éireann. Ireland's historical journey towards this goal of political freedom, like that of many other states, was bound up with a complex history of religious competition, conflict and domination. Despite bringing Catholic emancipation this period also resulted in the institution of a harsh period of social control stemming from the alliance of the Catholic Church and the state.
​Questions of freedom of religion across the globe intersect with political and social oppression, colonisation, destruction of indigenous cultures, race, gender and privilege. Rights are intertwined with freedoms; freedom of expression (both religious and secular or anti-religious), freedom of conscience, and individual freedoms such as to live openly one's gender and sexual identities.
Conceptualised as the prerogative to pursue one's chosen path, freedom can imply both freedom of religion and freedom from religion, and its associated concepts of secular/post-secular, atheism and non-belief.
​In many religious traditions the concept of freedom is central to doctrines and beliefs as well as to communal historical experience and personal spiritual journeying. The idea of freedom may be metaphysical, a state of the mind or being – whether understood as a condition of the afterlife, a progression of the soul or spiritual levels of attainment. Ideas of freedom may also refer to an embodied state, to movement and to speech.
​Freedom within and without religions stand in dialectical relationship to other terms, metaphors or conditions such as captivity, enslavement and restriction; such concepts as to bind, to bond, to tie or to limit, depending on context, can carry both positive and negative connotations.
​Ideas of freedom in religious traditions are of course diverse and stand in relation to multiple associated concepts such as liberation, salvation, illumination, enlightenment, "going clear", free will, self-realisation, actualisation and deliverance. Notwithstanding their close semantic associations, these ideas of freedom are distinct or unique to particular religious traditions.
​Such concepts of freedom are central to the narratives and experiences from humankind's earliest recorded past up until the present and have formed the motivation for religious and spiritual seeking or journeying as well as those for those striving for freedom of conscience and from religious influences or oppression.
​Responses to the Covid-19 pandemic have demonstrated how quickly freedoms can be radically restricted: places of worship closed, the participation in pilgrimages prohibited and acts of solidarity criminalised. Both religious and state authorities around the globe are constantly challenged to redefine their stance towards each other and the associated freedoms they might guarantee, restrict or deny.
​It is the aim of this conference to provide a transdisciplinary forum for theoretical and methodological reflection and for empirical and historical research on freedom in, from, and of religion. We welcome contributions that approach the topic of freedom and religion from sociological, anthropological, cultural, political, historical, psychological, philosophical and legal perspectives in both historical and contemporary settings.
​
​